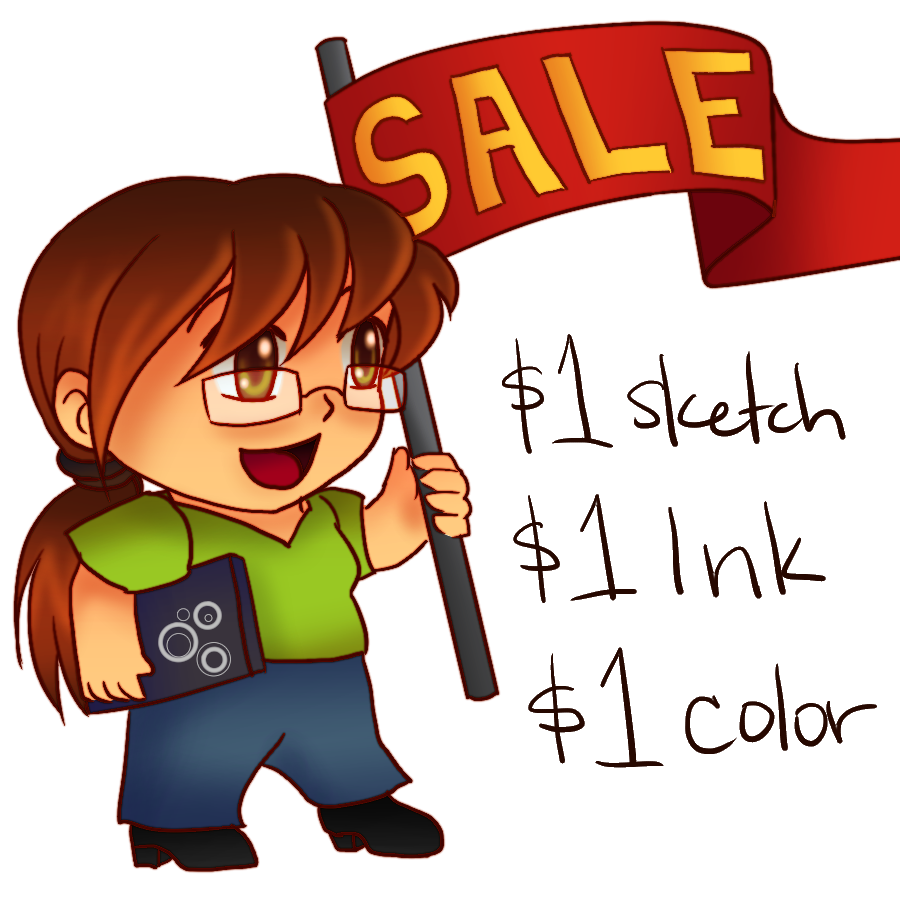 I'm holding my first ever $1 Commission Sale for the month of July 2014!
$1 If you want just a clean sketch of your commission
+$1 If you want me to Ink it
+$1 If you want me to add color to it.
$3 in total if you want the complete set
Interested? Send me a Note! By all means use this form to help me organize my list of commissioners!
deviant name:
type:
(sketch, ink, or the complete set)

commission details:
(anything goes, even attaching a reference would be most helpful)
paypal e-mail:
~~~~~~~~~~~~~~~~~~~
WAITLIST:
1. empty
2. empty
3. empty
4. empty
5. empty
~~~~~~~~~~~~~~~~~~~
Q:
Its too good to be true! I bet there is a catch!
A. Well...there is. The canvas I'm going to provide for the commission sale will be limited to 3 inches by 3 inches, at 300dpi resolution. What that means is that you'll get an image 3x3in in size.
Q.
What formats do you offer?
A. .PSD, .PDF, .JPEG, ,GIF, .PNG will be sent to your specified e-mail address if it is different from your paypal e-mail.
Q.
Is there a waitlist?
A. As much as I want a first come, first serve basis, if you are the first person who paid the amount requested for the service (since paypal's services charge you, i'm technically getting less than a dollar if you just want a sketch) then you are the first commission I will work on. Those who do will be my top priority. I work one at a time, if I'm currently on someone else's commission, I will reply back that you''re in a waitlist :3
Q.
Why are you holding this sale?
A. My Internet Service Provider is no longer providing a good promotion in using their internet, and aren't giving any decent deals anymore. They jacked up our bill by 2x

and is forcing us to switch to a better service so they can offer better deals, but those deals will eventually make us end up paying 3x more than we used to pay. And this is just for the internet, I don't have any cable, nor a home phone, just a cheap mobile bar phone. I'm hoping I can get at least some $ so that I don't go under my paycheck x_X and hopefully don't need to hold this sale every month.
Q.
Would you give me an idea on how it looks like?
A. Sure!
Q.
All other Questions?
A. By all means send me a note!
Thanks for your interest!