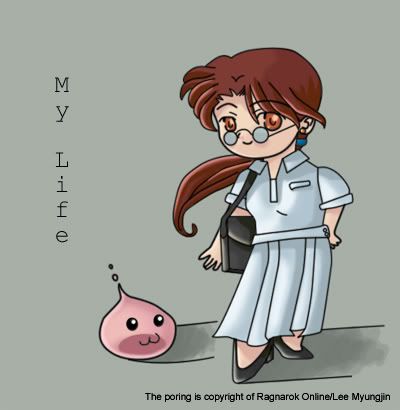 Hokay!!
lemme rewrite this again...because the last one I did was replaced by the 'Guatamala glitch'
-------------------------------------------------------------------------------------
I'm itching to draw now that I can go on the internet any jolly old time I want to, even if its still a dial-up. I'm getting jealous of people placing deviations... *sigh* and wanting to join contests again. Unfortunately I don't have a decent computer that can hold a lot of memory because I draw a lot and scan them at a high dpi..
T__T
Oh yeah, my winning of the 1 year subscription thingy from the Holiday Card Contest, I want to thank:
UST Post Office, because I didn't expect a rusty old post office can still bring me good luck, which brought my faith back to it.
daMEAT Peeps, well sorely because of inspiration and encouragement.
DA, of course, even if it was by chance, i'm still thankful for the blessings.
I do have to find work tho, so that I can earn up for my tuition T__T so that I can finally finishy my college.....because I think I'm getting too old for college...
my dad's egging me to take the driver's test so that when I pass I can start driving lessons from him....getting lazy reading the handbook tho, and just reading little at a time (dad's gonna kill me if he finds out...) but there are some things (actually a lot) i've highlighted because I don't understand it well. Maybe dad can explain it better in Firipingo...
*sigh*
>< I'm starting eating too much food again, I might gain back the weight that I lost when I was back in Philippines. Ugh...I need control.
neways that's so far what's been happening
---------------------------------------------------------------------------------
Relative:

Clubs I Am In:



Clubs I've Watched: